innoFSPEC fellows visiting the Chinese Academy of Sciences, Beijing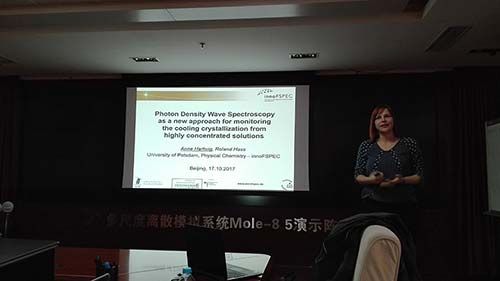 Dr.-Ing. Anne Hartwig to present on innoFSPEC core technologies at the State Key Laboratory on Multiphase Complex Systems, Institute of Process Engineering (http://eng.mpcs.cn/), Chinese Academy of Sciences, Beijing, China. Dr. Hartwig gave a talk on "Photon Density Wave Spectroscopy as a new approach for monitoring the cooling cristallization from highly concentrated solutions".
The sponsorship of the German DAAD is gratefully acknowledged, allowing for in-depth discussions on how to link the German optical fiber instrumentation activities at innoFSPEC with the analytical challenges of Prof. Yongsheng Han's Chinese research team.